A Paintless Dent Repair Company
We specialize in repairing dings, dents, creases and hail damage on automobile panels using a paintless dent repair method which maintains your superior factory finish while saving you time, money, loss of vehicle and avoiding complicated insurance claims and trips to a collision shop. We are a mobile service dedicated to the convenience and satisfaction of our customers.
Please Contact for Dent Repair Services Only.
Most small dents and door dings repaired within an hour depending on location. Larger dents may take 1 – 3 hours.
PDR is the preferred method of insurance companies due to the fact it saves time and money.
With precise technique and the right tools, a professional technician can remove dents from your vehicle and return your car to it's pre-dent condition.
COST IS DETERMINED BY:
Size of dent
Location of dent
Number of dents
Accessibility
Composition of metal
(steel or aluminum)
Glass type on window
(tempered or laminate)
A QUICK ESTIMATE CAN BE MADE BASED ON A PICTURE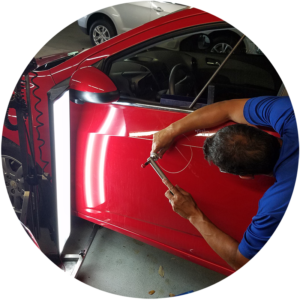 We promise you a high-quality repair and your full satisfaction.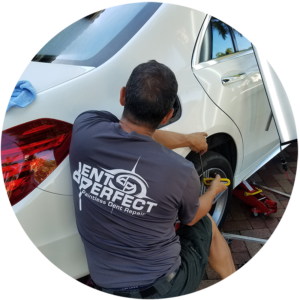 We cant repair everything, but we will be the first to tell you if we're not the best option.
Give us a call or
send a photo and a text
to 954-423-1110